Thoughts On Being or Becoming a Volunteer in the Outdoors
READING TIME: 5 MIN
For me, volunteering in the High Desert has made knowing Joshua Tree National Park and the Mojave Desert my constant homework, not just for myself but rather to help others enjoy the land safely and appreciate it more while leaving a minimal impact behind. I take a lot of pride in this work because I cannot imagine a better way of engaging with a place I love and enjoy so much while giving back and practicing my values - and, having tons of, yes, geeky fun. In being "outdoorsy" it's easy to get wrapped in our own little world of bucket lists, hiking goals, summit goals, personal adventures, you name it. But what about dedicating some time to directly help the places and communities we come in contact with for our recreational use?
My boyfriend Roberto and I decided to start volunteering after our second visit together to Joshua Tree National Park. It all began as giving ourselves an "excuse" to come up to the desert more often. It also made sense to help out a place we knew we would enjoy on many adventures yet to come. When we found out about the Desert Institute, there was an immediate connection to their mission of providing educational field opportunities for adult learners. They offer field classes ranging anywhere from cultural history and natural science to survival skills and creative arts. They are always looking for people who could act as leaders and help participants have a safe desert experience while supporting park regulations. It was a definite match for us. Recently, when we decided to move into Joshua Tree to take a break from living on the road, we took the first opportunity available to also volunteer with the Mojave Desert Land Trust (MDLT). They are a local non-profit helping with land acquisition and preservation as well as providing opportunities for the community to know their local resources better. At the time they were launching a Land Monitoring program for volunteers, and after we jumped in on that opportunity we've been able to help in a few other different ways too.
Volunteering with the Desert Institute: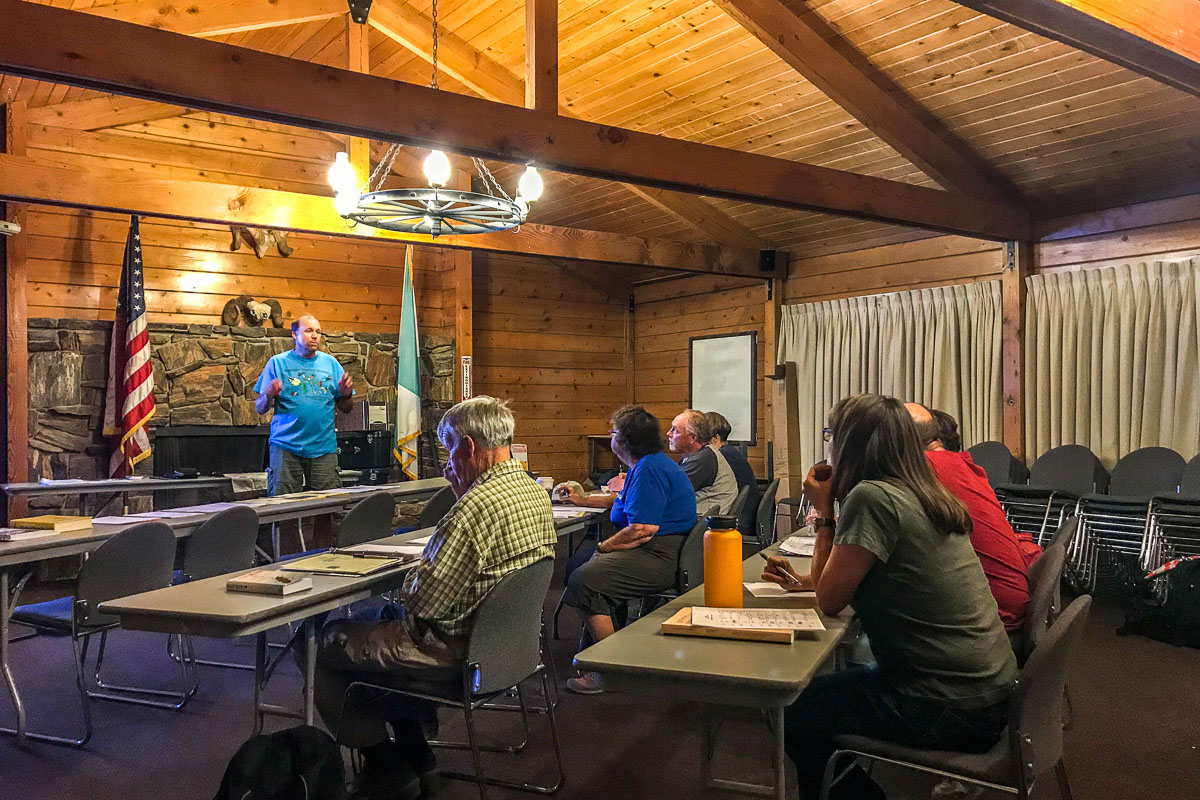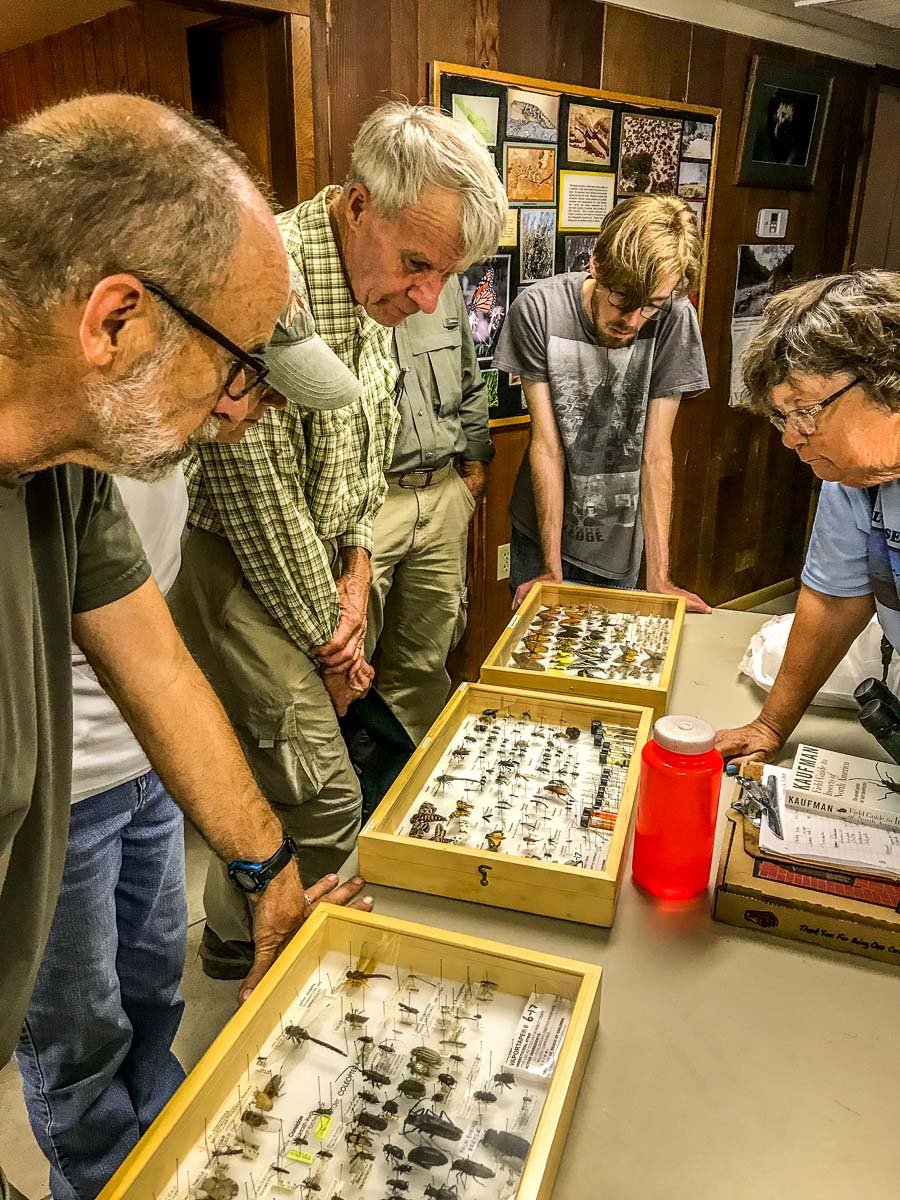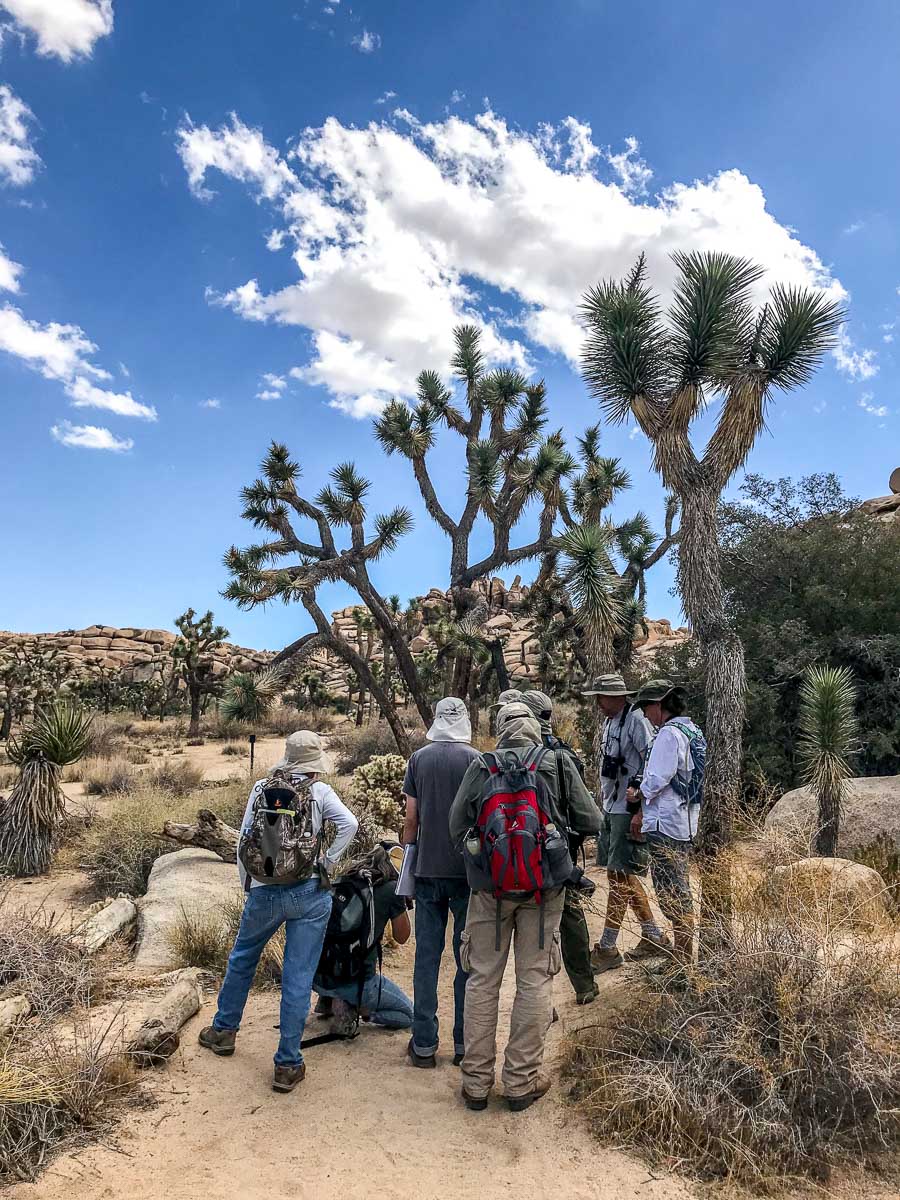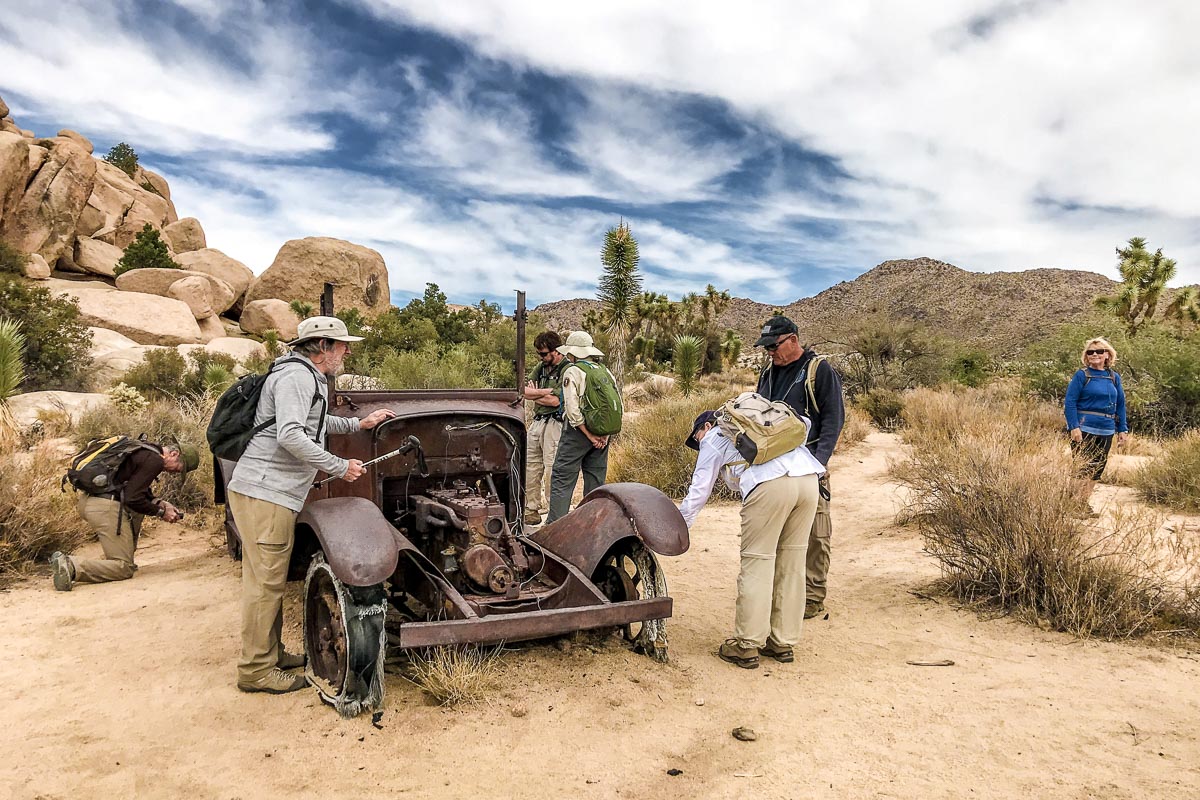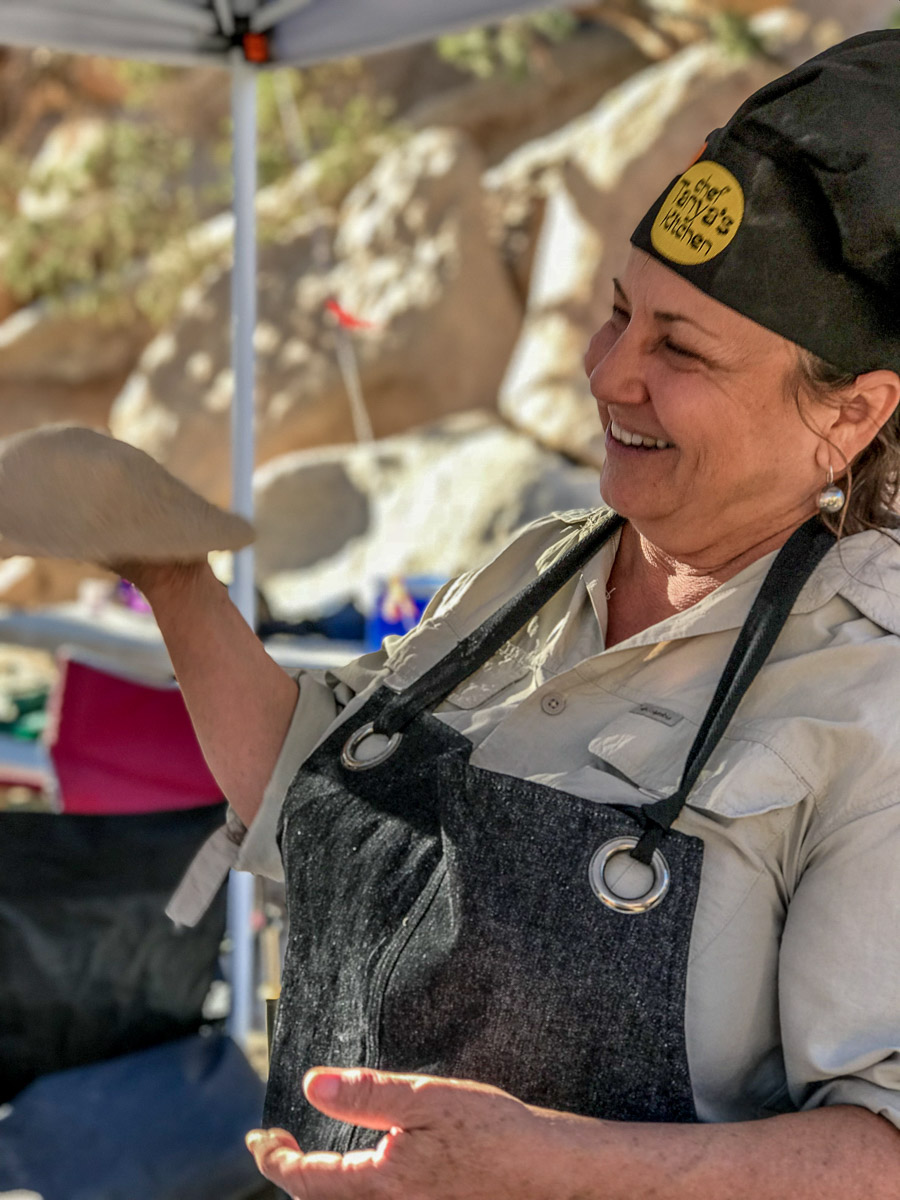 PERKS
First of all, let's talk perks. Because when you volunteer you have access to knowledge, places, and people you probably wouldn't otherwise. Imagine getting to know a place you love through the diverse eyes of artists, locals, visitors, scientists, and naturalists. Imagine hearing the ancient stories about the land from the people whose oral history has prevailed until today. Imagine being able to see archives of research generally closed to the public. Imagine visiting a beautiful place reserved for internal use only. Imagine learning about local archaeology from those who have been studying it for decades and even help them first hand with a project. And then, there are the volunteer training opportunities where you get to pick up a skill to practice in the field. For example, to become Volunteer Land Monitors with the MDLT, Roberto and I had to learn how to use a data collection software - the same one used by professionals across our public lands system for multiple purposes. Needless to say, these perks come with great responsibility. But wouldn't they enhance your understanding and appreciation of nature and the land beyond what just hiking or camping could?
TIME COMMITMENT
I think volunteering might sound intimidating for some people because committing time is a widespread issue in our culture. I know my people, we are all commitment-phobes. You could believe that volunteering requires you to be continuously available. But what I have found in volunteering with several organizations (across many different industries) throughout my life is that you usually only have to commit to a very minimal amount of time, and sometimes you don't have to commit at all. For example, with the Desert Institute, you need to commit to being active at least two times per season - that accounts for the fact that they get you certified in first-aid and CPR and trained in Park protocols. They also provide with re-certification so you can stay current as the years go by and you continue to volunteer. With other organizations, you only volunteer when you can, want or have time depending on the type of volunteer you want to become.
For the most part, non-profits and organizations are always in need of help and will not discriminate against you because you can only volunteer once a year. There are also many one-of volunteering opportunities happening all the time, from beach/trail cleanups, to food/clothing drives. Some organizations like Leave No Trace have a very self-directed volunteer program. They empower you with resources, and you are free to volunteer in whichever capacity you want whenever you can - they'll give you ideas on how to do it.
Volunteering with the Mojave Desert Land Trust:
COMMUNITY
Volunteering is also an incredible way of finding community. Think about the peers you'll meet. A group of like-minded people with whom you share so much more in common than you know, and also from whom you'll get to learn a ton. I have often found myself inspired by the people I meet while volunteering. There's something very empowering about being able to connect with others who feel a passion you can relate to. Any given day volunteering in the field can restore my hope in humanity and leave me filled with joy despite whatever stress I'm dealing with in life.
RESPONSIBILITY
Lastly, I want to talk about responsibility. Depending on the kind of volunteer you become, you'll be trusted with information, people's safety, specialty gear, etc. Keeping in mind how much responsibility you are mentally and physically capable of managing is very important. A Volunteer assignment is no place or time to test your limits and try the most extended hike you've done in your life. You need to be aware of and honest with yourself to help others and not become a liability. You need to be able to respect the leaders you'll be working with, be on time, keep confidential information to yourself, and execute your tasks to the same standards as you would in any "paid" position. It's as easy as knowing how to follow directions and keeping to your promises. You also have to understand that you are representing an organization (especially if you are wearing a uniform), not just yourself, and act accordingly. With the Desert Institute, we didn't become volunteers until after the training, because they believe you have to know well what you are getting yourself into before making a decision. I think that's very sensible and you should never volunteer to do anything you don't feel confident or aligned with.
JUST TRY
If you love the outdoors and make use of them, I encourage you to explore opportunities to volunteer for those places you frequent and enjoy the most. It all comes down to establishing a relationship with the parks, recreation areas, and their partner organizations you care about while staying in the loop through their social media or newsletters. And if you don't see any communications about volunteering, don't be shy and reach out to someone in the team to start the conversation. Chances are they can use an extra hand somewhere somehow.
If you have experience volunteering for any non-profit, I would love to hear from you! Please follow this link and let's be in touch. Also, feel free to share any thoughts on the comments below :)